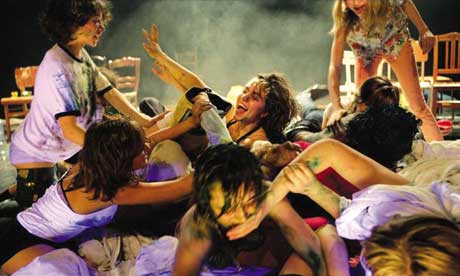 Ontroerend Goed, de kopergietery and Richard Jordan Productions Ltd. present
ONCE AND FOR ALL WE'RE GOING TO TELL YOU WHO WE ARE SO SHUT UP AND LISTEN @ The BAC
Directed by Alexander Devriendt
Written by Joeri Smet and Alexander Devriendt
Scenography & Costumes by: Sophie De Somere
With:

Aaron De Keyzer, Barbara Lefebure, Charlotte De Bruyne, Christophe De Poorter, Dina Dooreman, Edith De Bruyne, Edouard Devriendt, Elies Van Renterghem, Febe De Geest, Helena Gheeraert, Ian Ghysels, Koba Ryckewaert en Nathalie Verbeke
There is something undefinable about watching what is "the real" on stage. It can be two actors sharing an embrace, the audience full knowing that they are entwined in an offstage relationship. It can be the moment an amputee reveals the absence of a limb in the context of a play. In the case of

Once and For All...

, Total Theatre and Fringe First Award winner from Edinburgh 2008, "the real" is found in the presence of its cast made up of 13 to 18 year old adolescents. Whatever they do, it is so far from acting that it by nature becomes the most beautiful esemble of stage living that I have come across.




Once and For All..

. attempts to be little more than a reminder of what we were and what

they

are. Though the dancing, fighting, groping mass on stage is certainly entertaining, the most startling moments of the performance come when the audience finds the tables turned and realize that they themselves are being watched and probed and picked apart by the kids. I found myself noticeably squirming in my seat during an extended sequence of teenage orgy (in the most innocent sense of the word) when I caught myself entrances by the activity on stage. "What does that say about me?"
I wondered. Of course, the kids don't care. I am old (though less than a generation away!) and they have themselves, each other, everything.
At it's best,

Once And For All...

is an excercise in simplicity amongst chaos. The set and lighting design doesn't attempt to mime minimalism-- it is, in fact, barely there. While the show certainly worked within the world of these constaints, I would be enormously excited to see how a fully realized design could influence the show. There's no reason that utilizing a teenage lighting designer with sufficient skill would take away from the zest of the piece. In fact, judging by the excellent direction of 30-something Alexandre Devrient, there's no reason that adults can't come play in this world. Which of course raises the question of whether we can ever go back to the world we lived in as adolescents-- and do we want to?
Only if someone promises I get to ride the motorbike into the tower of water cooler jugs...